Check back often for all the latest Nintendo events. New events are being added all the time.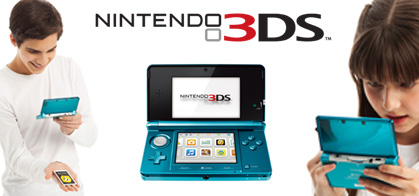 Nintendo 3DS Retail Sampling Sessions
Come play the Nintendo 3DS…

Nintendo 3DS teams will be in downtown city centres and retail store fronts. There will be multiple Nintendo 3DS gaming stations onsite with a wide selection of 3D games such as Face Raiders™, Pilotwings Resort™, nintendogs® + cats, Super Street Fighter® IV: 3D Edition plus many more...
Nintendo 3DS is a breakthrough in portable entertainment, experience incredible gameplay featuring real 3D graphics, with no need for special glasses.
It has to be seen to be believed.
LEARN HOW TO DOWNLOAD A FREE 3D MUSIC VIDEO
Schedule may change, check back regularly


Ontario

June 11, 12-4pm

Toys R Us - Mississauga East

June 11, 12-4pm

Futureshop - Vaughan

June 11, 12-4pm

Toys R Us - Guelph KW

June 11, 12-4pm

Best Buy - Richmond Hill

June 11, 12-4pm

Futureshop - Durham

June 11, 12-4pm

Futureshop - Ottawa

June 11, 12-4pm

Best Buy - North York

June 11, 12-4pm

Futureshop - Mississauga West

June 11, 12-4pm

Walmart - Windosr

June 11, 12-4pm

Best Buy - Nepean

June 11, 12-4pm

Futureshop - Markham

June 11, 12-4pm

Futureshop - Barrie

June 11, 12-4pm

Best Buy - London

June 11, 12-4pm

Eb Games - Downtown Toronto

June 12, 12-4pm

EB Games - Mississauga East

June 12, 12-4pm

Walmart - Vaughan

June 12, 12-4pm

Walmart - Guelph KW

June 12, 12-4pm

Walmart - Richmond Hill

June 12, 12-4pm

Toys R Us - Durham

June 12, 12-4pm

EB Games - Ottawa

June 12, 12-4pm

EB Games - North York

June 12, 12-4pm

Walmart - Mississauga West

June 12, 12-4pm

Futureshop - Windosr

June 12, 12-4pm

Best Buy - Hamilton

June 12, 12-4pm

Walmart - Nepean

June 12, 12-4pm

Best Buy - Markham

June 12, 12-4pm

Walmart - Barrie

June 12, 12-4pm

Walmart - london

Alberta

June 11, 12-4pm

Toys R Us - Calgary

June 11, 12-4pm

Best Buy - Edmonton

June 11, 12-4pm

EB Games - Lethbridge

June 11, 12-4pm

Futureshop - Calgary

June 11, 12-4pm

Futureshop - Edmonton

June 11, 12-4pm

EB Games - Calgary

June 12, 12-4pm

Futureshop - Calgary

June 12, 12-4pm

EB Games - Edmonton

June 12, 12-4pm

Walmart - Lethbridge

June 12, 12-4pm

Walmart - Calgary

June 12, 12-4pm

Walmart - Edmonton

June 12, 12-4pm

Best Buy - Calgary

Saskatchewan

June 11, 12-4pm

Best Buy - Saskatoon

June 12, 12-4pm

Walmart - Saskatoon

British Columbia

June 11, 12-4pm

Futureshop - Vancouver

June 11, 12-4pm

Toys R Us - Burnaby

June 11, 12-4pm

Toys R Us - Kelowna

June 11, 12-4pm

EB Games - Coquitlam

June 11, 12-4pm

EB Games - Surrey

June 11, 12-4pm

EB Games - Prince George

June 11, 12-4pm

Best Buy - Coquitlam

June 11, 12-4pm

Toys R Us - Richmond

June 11, 12-4pm

June 12, 12-4pm

EB Games - Vancouver

June 12, 12-4pm

Best Buy - Burnaby

June 12, 12-4pm

Walmart - Kelowna

June 12, 12-4pm

Futureshop - Coquitlam

June 12, 12-4pm

Walmart - Prince George

June 12, 12-4pm

Walmart - Coquitlam

June 12, 12-4pm

Best Buy - Richmond

Quebec

June 11, 12-4pm

Best Buy - Laval

June 11, 12-4pm

Walmart - Poine-Claire

June 11, 12-4pm

EB Games - Brossard

June 11, 12-4pm

Toys R Us - Montreal

June 11, 12-4pm

EB Games - Anjou

June 11, 12-4pm

Walmart - Anjou

June 12, 12-4pm

EB Games - Laval

June 12, 12-4pm

EB Games - Poine-Claire

June 12, 12-4pm

Futureshop - Brossard

June 12, 12-4pm

Futureshop - Montreal

June 12, 12-4pm

Walmart - Anjou

June 12, 12-4pm

EB Games - Anjou